The centre is open at prayer times and at advertised programme times only.
For out of hours access, in the case of an emergency only, please call 07708 523 883.
All general centre enquiries should be directed to [email protected] or by private messaging the IslamBradford Facebook page .
CENTRE RULES
Please abide by the centre rules below to help us in the efficient operation of the centre for the benefit of all. Jazakallahu khairan.
No literature distribution or commercial activity is to be undertaken in the centre or in the car park without prior written permission.
No private gatherings or classes are to be held in the centre without prior written permission.
Posters or announcements not bearing the IslamBradford stamp will be removed from the noticeboards.
Brothers are not allowed to enter any areas of the centre in exclusive use by sisters.
Children must not be left in the centre unsupervised at any time.
Damage caused to any part of the building or equipment must be paid for, including that caused by children.
IB will not assume any liability for loss or damage to property whilst using the centre or the car park.
IB reserves the right to refuse entry to the centre to anyone in breach of the above rules.
Any threatening or inconsiderate behaviour towards staff, volunteers or other users will not be tolerated.
The centre does not offer overnight accommodation for visitors.
FACILITIES
The centre comprises three halls and adjoining ancillary facilities. All three halls are equipped with whiteboards and projector screens to support the centre's educational mission.
GROUND FLOOR BROTHERS' HALL
The brothers' hall is the centre's nucleus where the daily prayers are primarily held. On Friday's, the hall serves as an overflow area for brothers.
GROUND FLOOR SISTERS' HALL
In addition to being the focal point for sisters' activities in the building, the hall is also used for seminar style events by both brothers and sisters. A movable screen allows easy partitioning of the hall, as required. The area between the sisters' lobby area and the sisters' hall is also used as an overflow area for larger or more complex events.
FIRST FLOOR HALL
Friday prayers and Tarawih prayers in Ramadan are primarily held in this L-shaped hall due to the increased floor area. Iftars and other community meals are also held on this floor for brothers due to the adjoining kitchen/preparation area. Larger sisters' events are also typically held in this hall.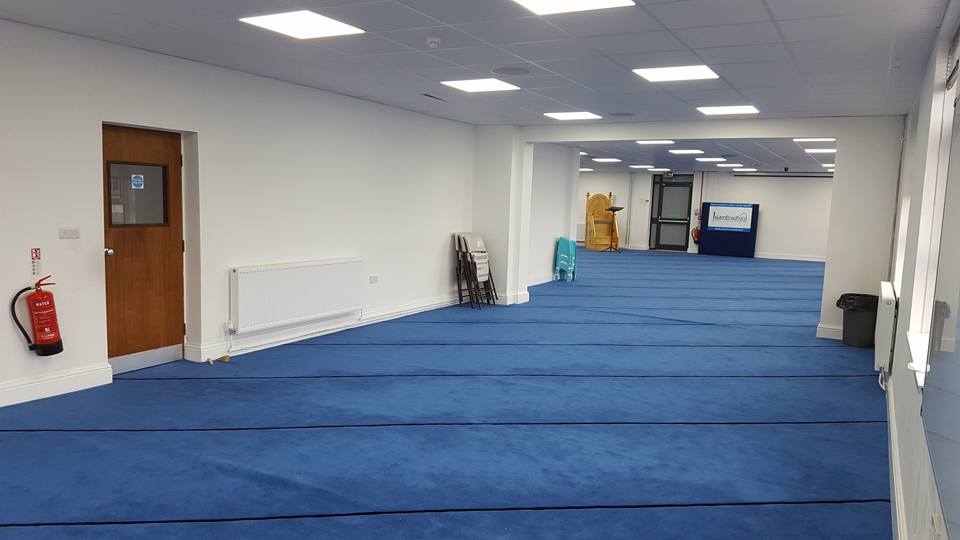 First Floor Hall from Rear